A wireless desk keyboard for your computer, tablet and smartphone
Type-on-anything universal keyboard

A new type of keyboard for your computer—that also works with your smartphone or tablet.*

Switch easily between devices

Just turn the Easy-Switch dial to switch typing between three connectedBluetooth wireless devices.
Windows and Mac. Android and iOS

You'll find a familiar keyboard layout with all the shortcut keys you use the most.

Type in comfort

The integrated cradle holds your phone or tablet at just the right angle for you to read while you type.*
Technical Specifications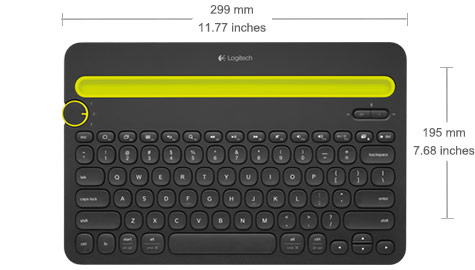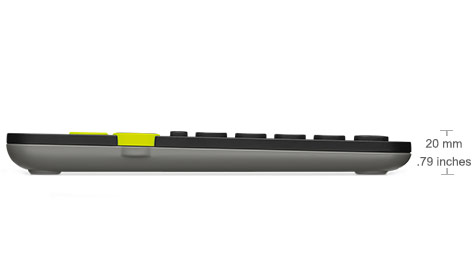 Technical Specifications
Available in white and black.
Bluetooth range: up to 10 m (30 ft)*
Battery life: 2 years**
On/Off power switch
Battery life indicator light 
System Requirements
Bluetooth wireless computers or mobile devices which support external keyboards (HID profile).
PC: Windows® 7, Windows 8, Windows 10
Mac: Mac OS X® or later
Chrome OS™
iPad® or iPhone®: iOS 5 or later
Android™ tablet or smartphone: Android 3.2 or later.
Internet connection (for optional software download)
Purchasing & Delivery
Delivery Times
Please bear in mind that delivery estimates are calculated from the time of despatch, rather than from the moment you place your order. Our teams carefully picked and packed your order by hand, therefore these estimates can vary, particularly during busy times of the year. So if your order isn't dispatched straight away, don't worry! We are doing our best to pack it with love and care.
Please allow 24 - 48 business hours to process your order. We ship Monday through Friday, excluding weekends and holidays. If we are unable to process your order due to inaccurate or incomplete payment or incorrect address information, your order processing may be delayed an additional 3-5 business days
Normal delivery times for standard shipping is 3 - 5 days (may be longer for Western Australia and Northern Territory). For Express Delivery, it will be 1 - 3 business days (Metro area only). These timelines are guidelines only. Where possible we provide consignment details and courier tracking numbers to customers (in the order status), so please contact the corresponding courier to track your shipments.
PREORDER & BACKORDER ITEM
Preorder and Back-Order items will be shipped as soon as possible, upon arrival from the manufacturer/publisher. Any items included in the order with the back-order items, will be shipped along with the backordered item when it becomes available.
Courier
Cubox Australia ships through the Australia Post eParcel service or selected couriers (Fastway / TNT / Startrack Express) , and customers may choose Standard or Express Shipping, at the charges shown on Cubox Australia' order form.
PO BOX Address
We are unable to ship bulky items to PO BOX address. Should your items are categorized as bulky items, we will request an alternative address to deliver your items.
Store pickup
Store Pickup is only available for selected products and from selected locations as shown on our Website. During the ordering process, you need to select STORE PICKUP from which you will collect the order. You will receive notification via email when your order is ready for collection for in-stock products, and notification via SMS for preorder products (if you provide a mobile phone number at time of ordering).
A valid email address and telephone number must be provided to use Store Pickup.

You agree to comply with certain collection requirements specified below and any other requirements that we notify to you when you place your order through our Website or notified prior to collection:
you must collect your order from the our pickup point store;
photographic identification and a signature, and where requested, proof of age, must be provided when you collect your order; and
the email order confirmation for your order must be shown when you collect your order.
Only the person on order can collect. If you will not be the person collecting your order then you must nominate your representative who will be collecting your order by providing their details to the us at the time your order is placed. Your representative must provide us at the time of collection with proof of their identity (including photographic identification) and, where relevant, age, and the confirmation or receipt for your order and such other verification reasonably requested by us. By nominating an alternate person to collect the order for you, you acknowledge and agree that that person is authorised by you to collect your order.
We will not allow a Restricted Product to be collected by a person who is unable to prove that he or she is over the required age as prescribed by law or as otherwise set out in these terms and conditions.
If you fail to collect your Store Pickup order within 6 weeks after you receive notification that the order is available for collection, we may cancel the order.
Warranty Information
LIMITED WARRANTIES
All products sold by Cubox Australia are covered by Return-to-Base or Manufacturer Warranty. Most of the goods carry 12 months return-to-base or manufacturer warranty, but some, like monitors, could have extended warranties. Please contact the product manufacturer for extended warranty details. You may sometimes find it more efficient if you contact the manufacturer directly to claim warranty (Australia based manufacturer). Alternatively, we will assist with your enquiries regarding warranty claim.
Payment Information
We accept Paypal, Credit cards (Master card / Visa), and Bank Deposit.
SP * CUBOX AUSTRALIA will appear on your credit card statement for orders placed with us.
If you select direct deposit during the payment step of the checkout, we will include our bank details in your order confirmation email. Please process payment within 48 hours after placing your order to expedite processing, funds must clear before your order is allocated and despatched. Payment typically clears next business day when paying from a non-ANZ account and at times same day when using ANZ Bank. Please use your order number as payment reference